LEARN MY SECRETS OF MAKING YOUTUBE VIDEOS THAT HAVE PROPELLED ME TO YOUTUBE SUCCESS!
In 2019 I had Zero to no following on any social media platforms. Fast-forward to 2021 and I have been able to go from having ZERO social media presence, ZERO prior video, editing, or YouTube experience...to now having over 304,000+ YouTube Subscribers, 28,000,000+ views, 46,000+ Instagram followers, 23,000+ Twitter followers, 40,000+ Tik Tok followers, and 23,000+ Facebook followers completely organically, starting from scratch. Most of this growth happened in the past 24 months and these are the exact strategies and SEO growth hacks that got me here.


With these strategies, I was able to grow my entire YouTube audience and online career PART-TIME, while still working a full-time job as an Uber driver during the day. I've learned through
YEARS
of trial and error, continuously failing, figuring out what actually works, and watching tons of YouTube videos every day to pick them apart and learn some of the secrets of viral growth.


 I've been able to narrow down and pinpoint specific techniques that lead to ORGANIC growth on YouTube, and several super-easy "hacks" to double your youtube ad revenue
within weeks
and none of this requires any ad spend.


This program took me 6 months to put together and it has
over
3 hours of content for you to watch and learn.
I made it as comprehensive as possible and made sure it covers EVERYTHING. This is the type, of course, I wish someone made for me when I started out.


With this course, you'll be able to take an inside look into my entire blueprint of making YouTube videos and turning it into a highly profitable business. If you have never made a YouTube video before or you currently have one and you are struggling to make it profitable then this course is for you. Sometimes it's the smallest, simplest tweaks that make the biggest difference...all of that is right in here!




SO, WHO AM I?
Hi, my name is Tayo Aina
I'm a photographer, filmmaker, YouTuber, and creator. Over the last three years, I've built an online empire on social media, in a large part due to knowing how to tell stories with videos.


Learning the art of telling stories in this way has led to some pretty incredible things some of which include a life of travel, working for global brands like Apple, DW and Google, a self-sustaining online business that provides endless freedom, as well as a consistently growing and engaged community on social media that I am thankful for every day. 


And all this came because I learned how to tell stories in a visually stunning way, with absolutely little to no outside help. I created the Youtube creator Academy so I could teach people like you how to build a life they love with the freedom that comes from having a successful YouTube channel. By the time you've completed the course, you'll know the precise steps I took to build my YouTube business, and better yet,
you'll be able to do the same.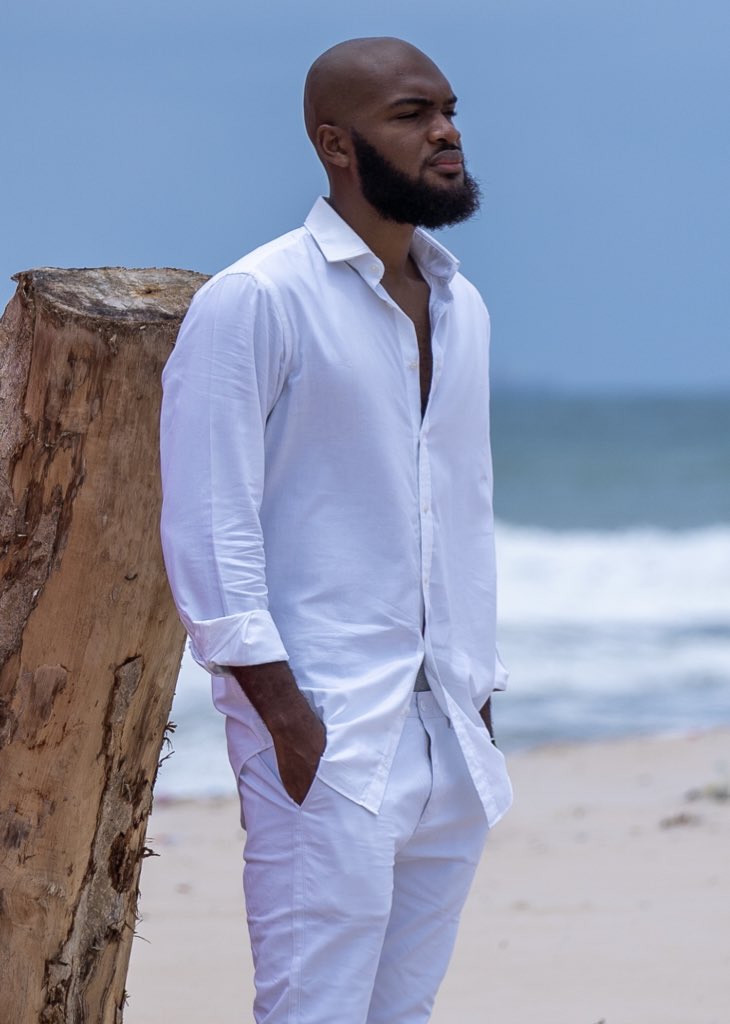 Aspiring influencers, or anyone who wants to grow a powerful following online
Online entrepreneurs wanting to boost their digital presence
Business professionals who need to always put their best foot forward on the Internet
Travel enthusiasts who want to make an impact by telling stories about their countries 
Musicians, actors, models, or anyone who relies on how they are perceived to make a living
Any human being who wants to live a life doing what they actually love!
WHAT YOU GET BEING PART OF THE YOUTUBE CREATOR ACADEMY
One-time payment for LIFETIME access

12 Modules and 53 comprehensive Lectures revealing the secrets to mastering the art of Youtube

2 Hours of Recorded Group Zoom calls with Tayo Aina and the creator community

Consistently updated modules and new sections are regularly added to the course to help you step up your Youtube business game.

Access to the discord community of creators
Meet Your Instructor
Tayo Aina is a Filmmaker, photographer, and YouTuber with over 400,000 people following his endless visual stories about Travel, Lifestyle, Real Estate, and exploring Africa in general.
Tayo uses his social media to inspire people to fall in love with life, themselves and find value in their immediate environment. He founded the Youtube Creator Academy to help creators live the life of their dreams by doing what they love, chasing their passion, and earning a sustainable residual income.
Frequently Asked Questions


What if I don't have a good camera?
The minimum gear needed for starting a YouTube channel is a mobile phone. Everything beyond that is a bonus.
What if I am not a professional filmmaker?
That's not a problem at all! I will show you some of the important tools you can use to make videos, even if you're a beginner!
I'm already making YouTube videos, is this course for me?
This course is for people who want to make YouTube their full-time Job and earn a sustainable income from it. I share a lot of tips & tricks on how to grow faster and increase your income on YouTube.
When does the course start and finish?
It is a completely self-paced online course - you decide when you start and when you finish.
How long do I have access to the course?
After enrolling, you have unlimited access to this course for as long as you like - across any and all devices you own.
What is the difference between this Academy and every other YouTube Tutorial/course on the internet?
There are countless tutorials and courses online and if you watch all of them you will probably learn how to build a YouTube channel too but that will probably take you longer. This course brings the most important things to look out for when starting a Youtube channel and condenses them into a 3 and a half-hour online course. 
Also, the 2 hours of recorded zoom calls with the Creator Academy and the discord group gives you a chance to interact with me directly and ask all the questions that you might have. There will also be a roasting session where I look at Youtube channels and tell you what I believe can be done to make your videos better. The discord community is something the members praise so highly because it's a space where all members are there for the same reasons… Learning. You will be encouraged to ask for feedback on your videos as it's a nonjudgmental space where you can improve your work constantly before posting it out into the world and this is one thing I wish I had when I started out. The community is a safeguard to ensure you're presenting your best self to the world.
Testimonial 1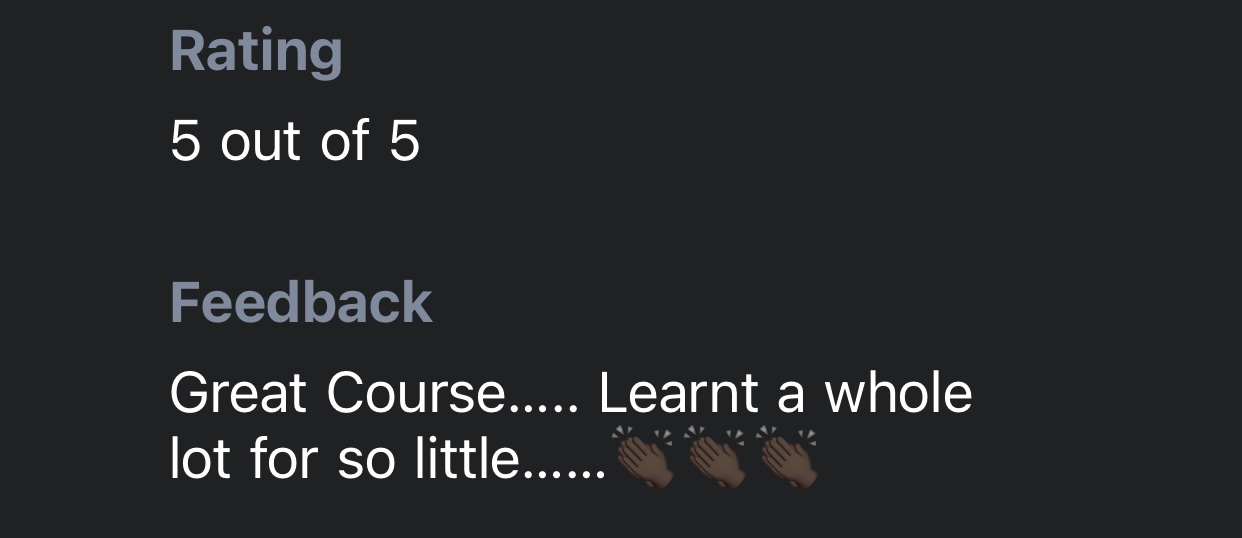 Testimonial 3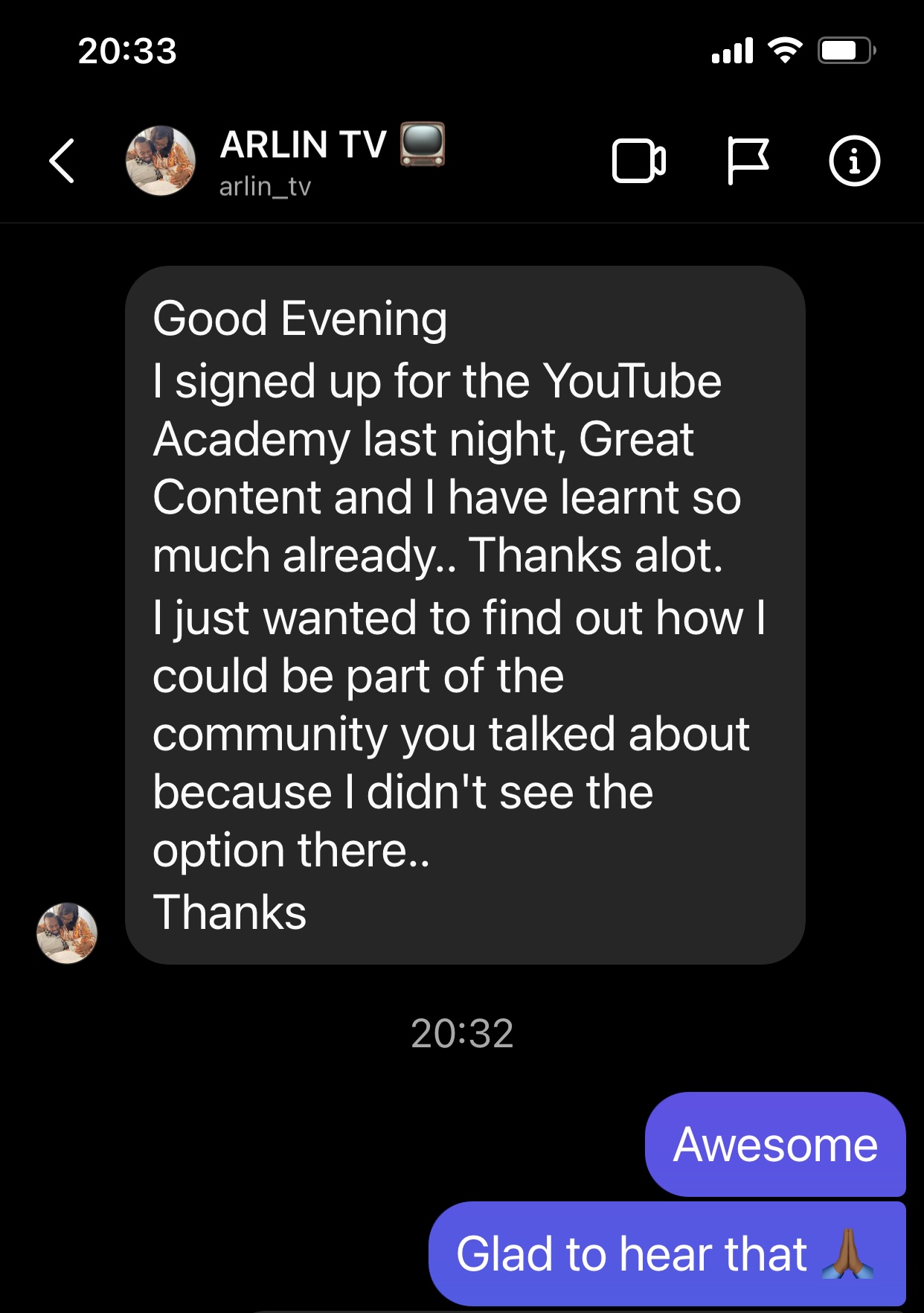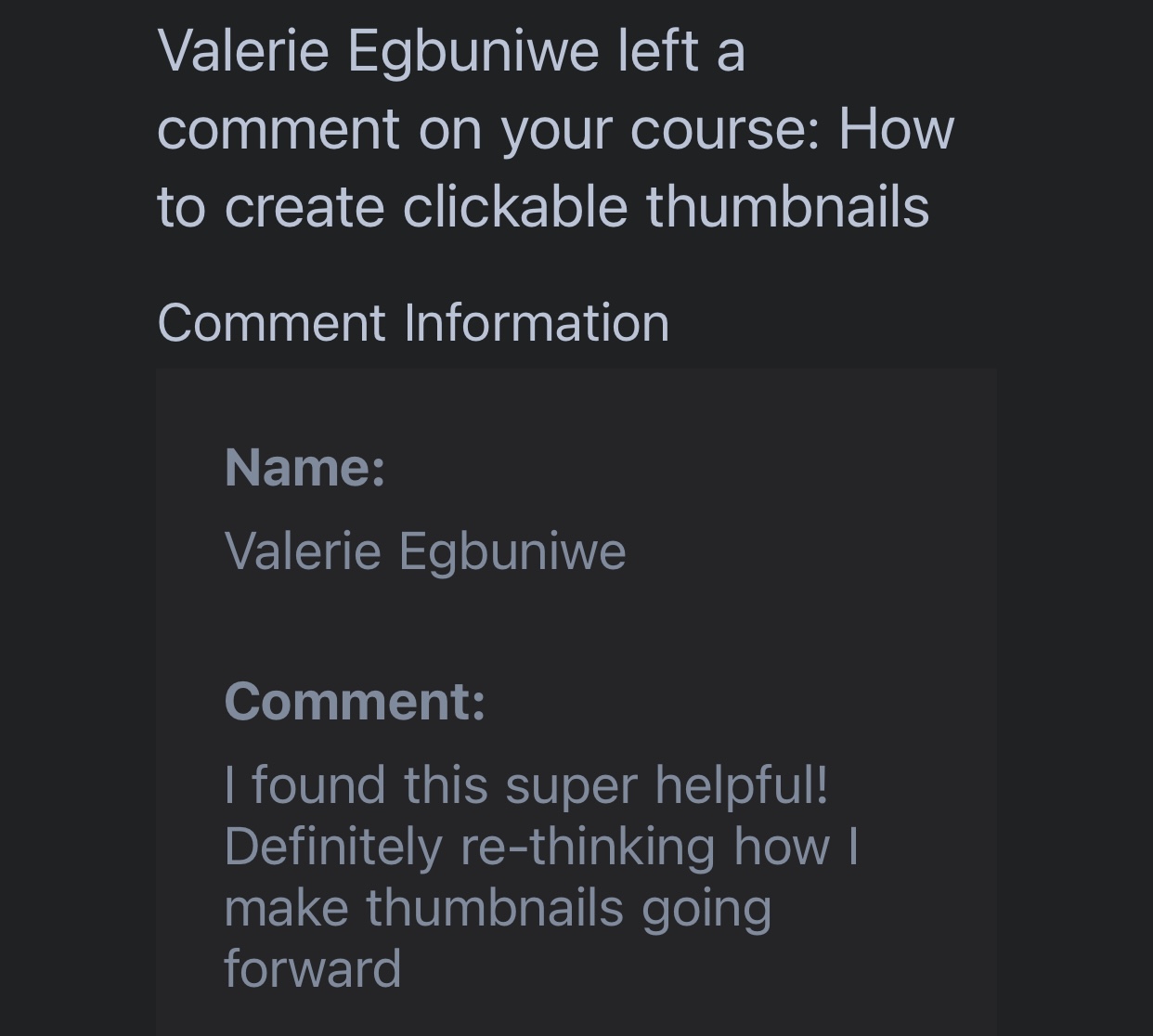 Testimonial 5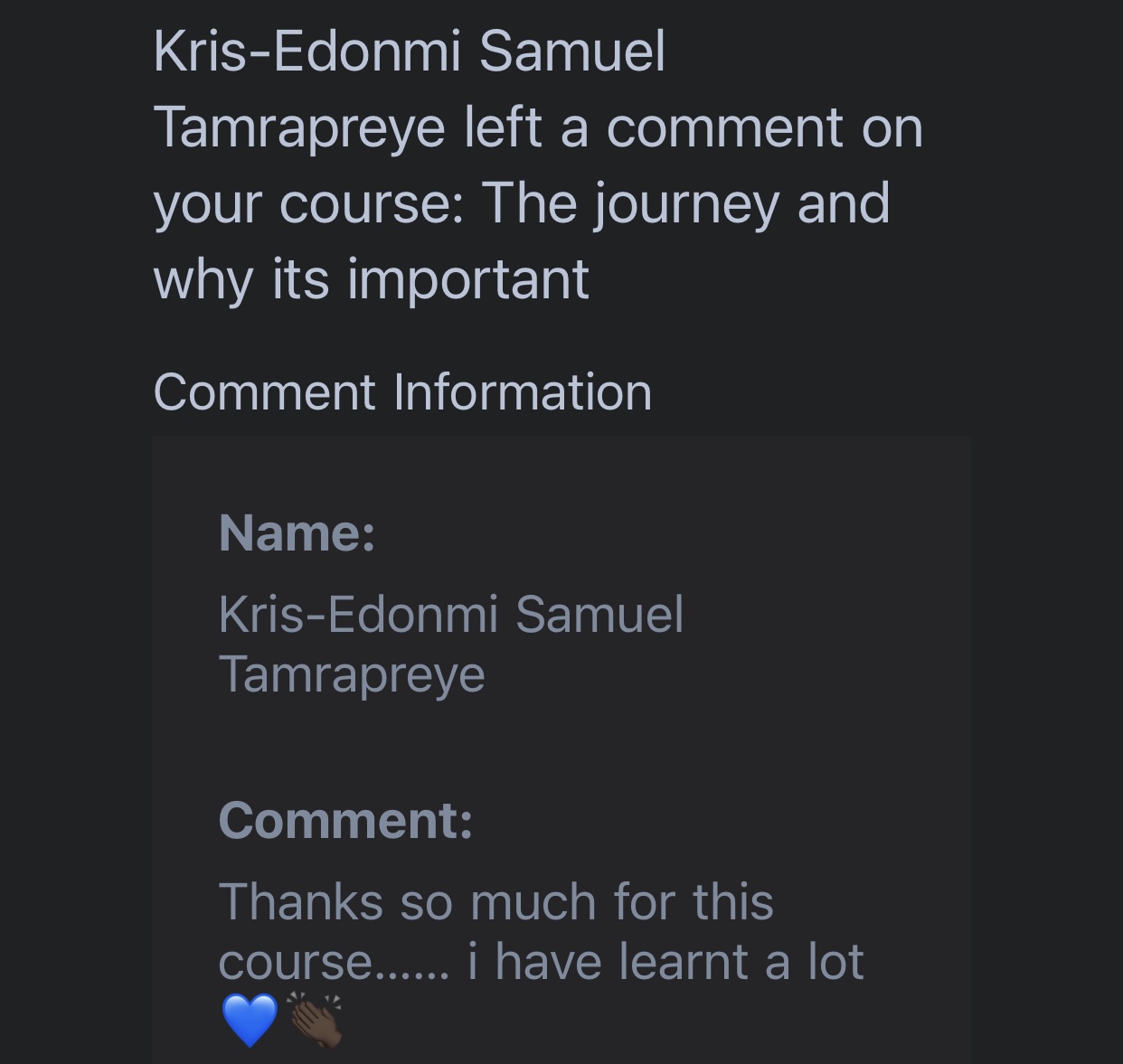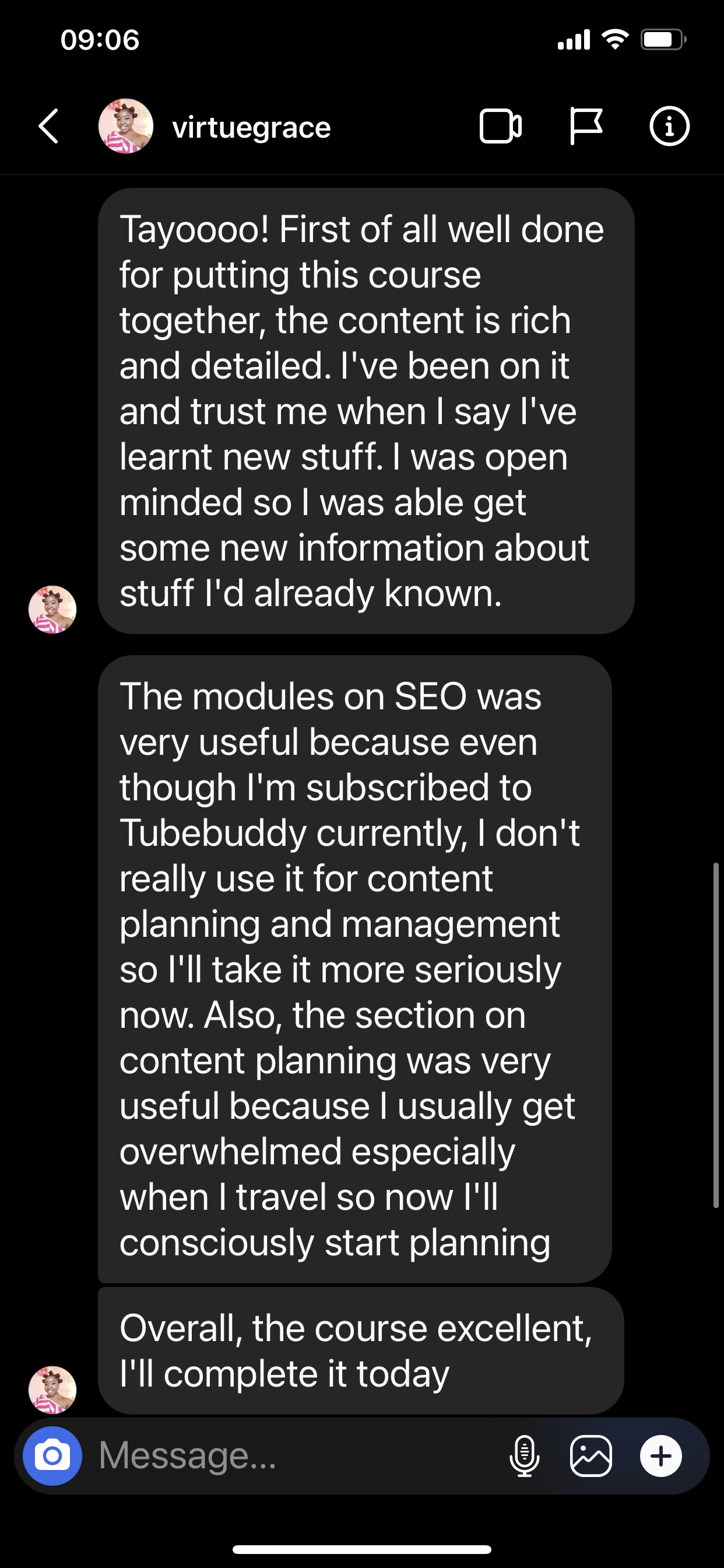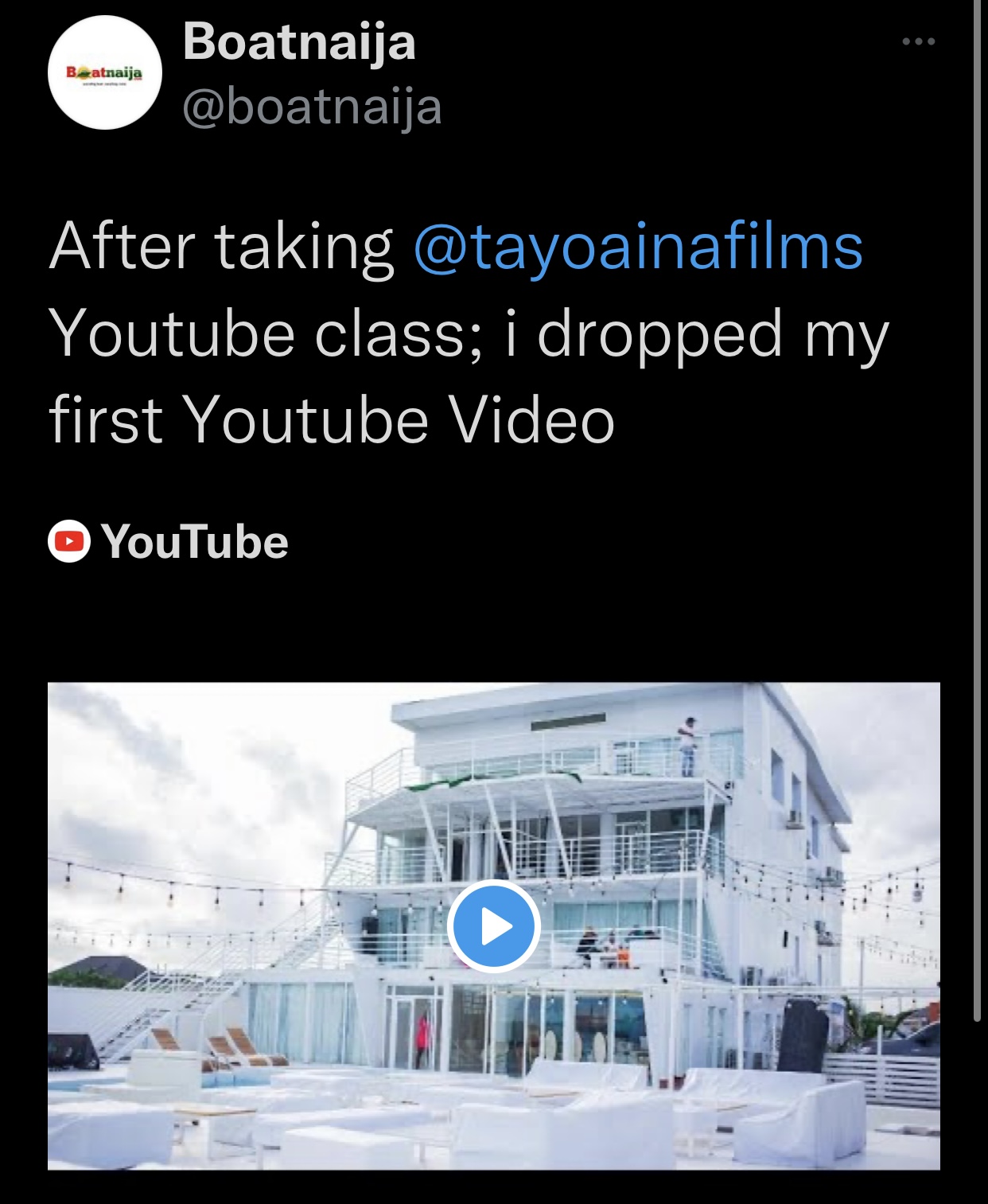 Testimonial 8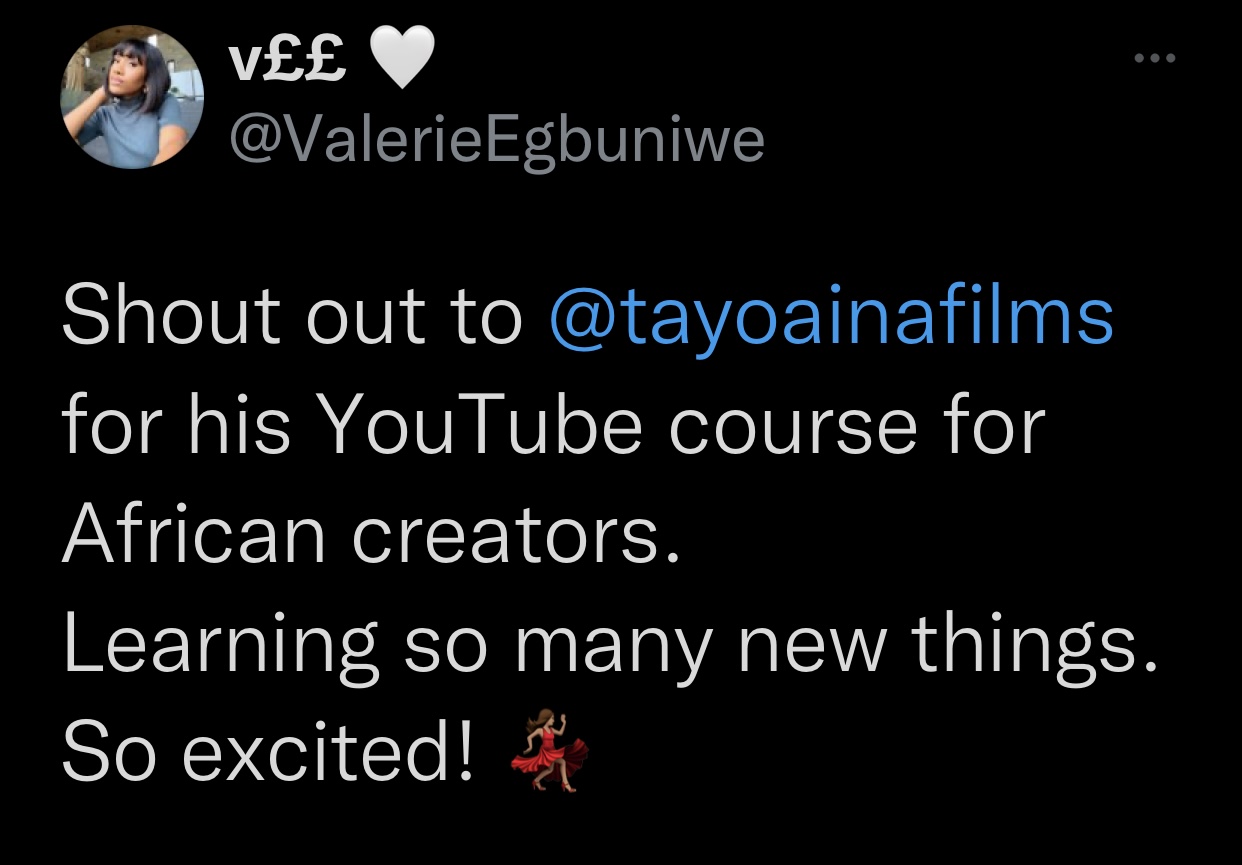 Testimonial 9